In the eyes of football boot manufacturers Stylo Matchmakers, todays chaotic football system is damaged and out of control.  Today football lovers have a choice when it comes to shopping for football boots, they can keep feeding the corporate beasts, or they can stand up in a battle against the practices of modern day football and proudly represent a message for change. Today's modern football problems include, inflated wages and transfer fees, the growing power of agents, billion-pound television deals and the spiralling obsession with not only marketing, but merchandising, corporate models and plastic stadiums. 
Whilst the players are earning disproportionate wages, many of the worlds elected best players are pressured into signing astronomical corporate boot deals for an additional revenue. Don't think they're pressured? Try naming a top 100 world player who isn't under a boot contract.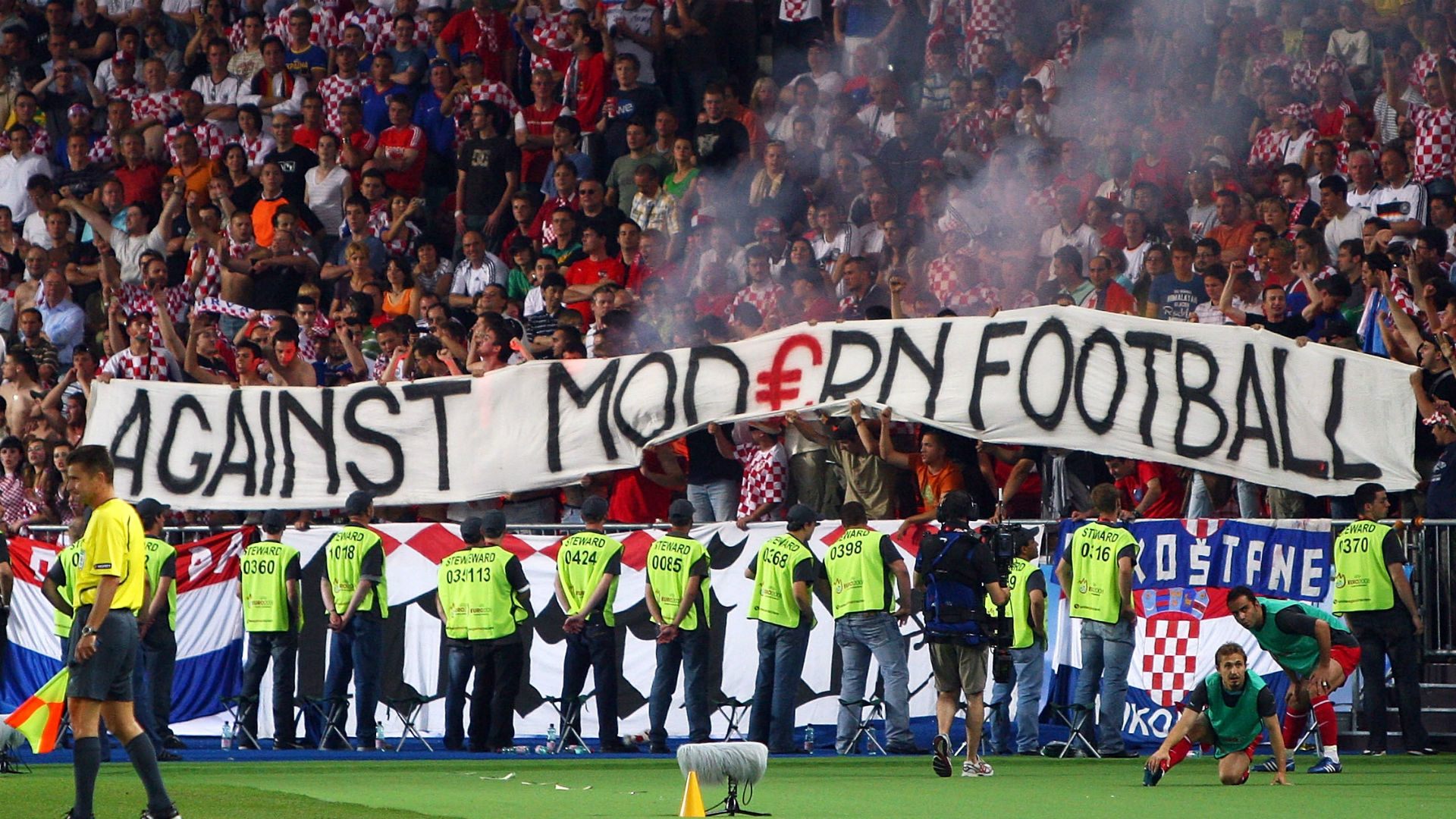 Whilst todays top Premier League football managers are also thrown huge pay packets, they also have very poor job security, callous bosses and receive abuse from the press whilst within the workplace.  Back in the early Seventies, just after the launch of Stylo Matchmakers in 1966, some of the most respected football managers to ever rule English football, including Don Revie, Jock Stein, Bill Shankly, Bob Paisley and Brian Clough were all advocates for the Stylo Matchmakers football boot brand, as the brand was a local, British, social organisation. 
All together these world famous managers promoted values for their people, including equality, respect and teamwork, supporting their local economy by signing up their full squads to all wear the locally manufactured Stylo Matchmakers football boots which is today has returned as an against modern football brand option. Stylo Matchmakers as it was first launched is still a family run boot business operating from the north of England. Economists say for every £10 spent with a local independent businesses means up to an additional £50 goes back into the local economy. So it's not that hard to see where your hard earned £10 of value goes when you buy a new pair of boots following the corporate trends. 
Unfortunately for all of us who resonate with the "Against Modern Football" values, Premier League managers with clear socialist values are at the moment a thing of the past. Stylo Matchmakers advocates in particular, Bill Shankly, Jock Stein and Brian Clough shared lots in common, and all stood up for a socialist world of football.
"The multi billion pound corporate brands have abused all the power they can get and the only way to fix this is by people adhering to change. Otherwise the repercussions will only continue to get worse." 
They all breathed teamwork, they had all been originally brought up in working-class communities. Shankly and Stein had spent years working as a coal miners prior to becoming successful football managers and Brian Clough grew up in a council house in Middlesbrough between the world wars, which at the time was a centre of steel production and a Labour stronghold in England's heavily industrialised north-east. Though not from a mining background, Clough felt great affinity with the miners' during their struggles in the seventies and eighties. He was known to turn up on miners' picket lines, sometimes bringing young players along to teach them.
He was also known to donate large sums to trade union causes, and even became a chairman of the Anti-Nazi League. These famous all time footballing greats would all be turning in their graves if they knew what modern day football has become. The legendary Liverpool manager Shankly laid out his ideals when he said: 
"The socialism I believe in is everybody working for the same goal and everybody having a share in the rewards. That's how I see football, that's how I see life." 
While he had super strong relationships with his players, Shankly was said to stress that not even the most talented among them was more important than the average fan. 
John Toshack, who played under Shankly at Liverpool for four years, told The Guardian in 2009:  
"He rammed it into us how important it was to be playing for Liverpool, how privileged we were to be playing for these people. We really believed that."
Shankly was known to find tickets for hard-up supporters, and always emphasised communication and cooperation with the fanbase. Shankly's advocacy of self-sacrifice for the sake of the support was one of the ways he inspired his players; it was in part that sense of working for the greater good which allowed them to thrive, and him to take them from the middle of the Second Division to the top of English league football, collecting two FA Cups, four Charity Shields and a UEFA Cup along the way. So today we campaign to revive the absence of socialism in football. 
Whilst the corporates brands continue have control over the football pyramid, including grassroots football, which whilst under a corporate power it is not authentic, as historically grassroots football is dirty and mucky, but marketing campaigns set up by the corporate leaders paints a picture that couldn't be further away from reality and are simply a waste of everybody's money. Sadly amongst football loving children and their parents there continues to be social pressures and subsequently this means there are victims of this corporate greed. Whilst their products are of the same quality as the corporate competition, Stylo Matchmakers is proud of the fact they do not bribe players to wear their products. They view this as dirty money, which we know with corporates only adds another zero to the price tag. So what will you do for your next pair of boots? 
Ignore the message and follow like a sheep as you're supposed to?  Or make a stand, shop local, and stick two fingers up to the corporates? The decision is yours….